You are here
A sensationally sustainable dinner
Our talented Culinary & Events team created, hosted, and delivered a sensational, sustainable dinner at the Assembly Rooms to showcase the power of collaboration between ourselves, our venue partners, and our suppliers to make impact and difference.
Sustainability isn't just about what we're eating and plant-based menus – of equal importance is where & how our produce is made – and the evening provided a wonderful opportunity for our trusted partners to share their passion for their produce, planet, and environment which provoked thought and discussion.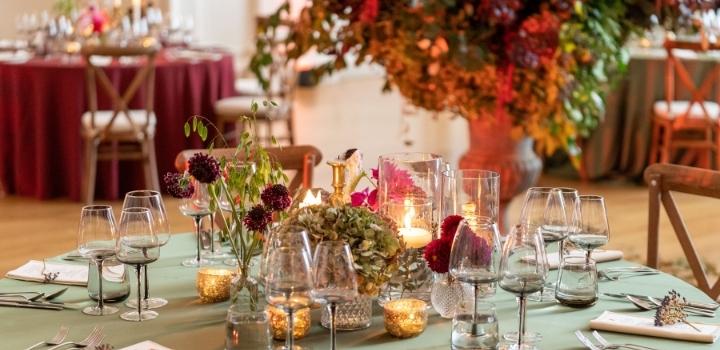 Planet Flowers created magnificent centre pieces and décor sourced from their local gardens in Edinburgh; Alliance Wine shared inspiring insight into the world of Cava production and sustainable practices of the producers featured on the menu; and our team of Chefs created a stunningly intricate menu featuring produce from local suppliers with sustainability at their heart Puddledub Farm and the Buffalo Farm.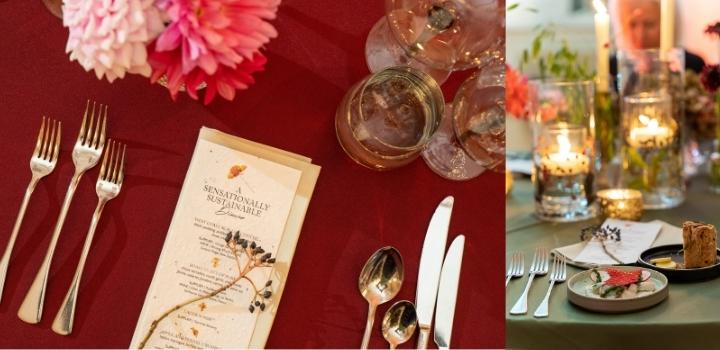 As well as enjoying a sustainably focussed menu with wine pairing, Ben Dutson, our Food Innovation Director, shared with guests our partnership with Full Circle Farms – a unique regenerative farm in West Sussex which does not use any fertilisers, herbicides, pesticides or weed killers. This is an initiative we are immensely proud of and have exciting plans to expand into Scotland.
To round off the evening, guest could take home their menus to sow and grow sweet alyssum, baby's breath, poppy, and basil – a beautiful way to mitigate paper waste.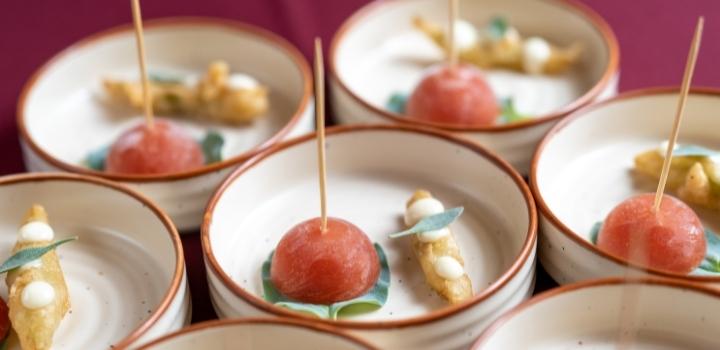 The menu:
Starter
West coast Scallop ceviche, black pudding, pickled turnip, pear puree, chive and dill oil
Supplier: George Campbells Fish
Wine: Riesling, Mount Edward, Central Otago, New Zealand
Main
Roast fillet of pork, cheek tortellini, confit garlic and potato puree, celeriac fondant, carrot, red wine jus
Supplier: Puddledub Farm
Wine: Côtes du Rhône Rouge, Le Revêur, Guillaume Gonnet, Rhône, France
Intermediate
Tennents lager sorbet
Supplier: Tennents Brewery
Dessert
Apple and fennel crumble, Italian meringue, buffalo milk ice cream
Supplier: Buffalo Farm & Dairy
Wine: Late Harvest, Mád Wine, Tokaj, Hungary