You are here
Intimate Culinary Experience at The Signet Library
In July, our team had the sheer delight of curating a remarkable evening of unrivaled intimacy and culinary excellence. Nestled within the historic walls of the illustrious Signet Library, an unforgettable dinner experience unfolded.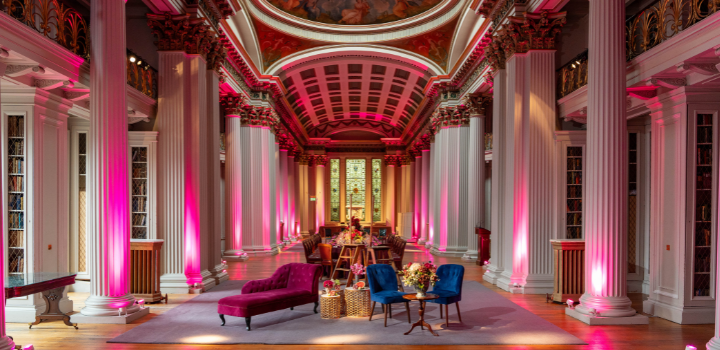 To begin the evening, guests crafted their very own bite-size delights in a deliciously interactive affair of a 'build your own canapes' masterclass led by executive chef Paul Hood. One of the most beloved culinary creations, meticulously crafted by chef Paul, was the zero-waste puffed mull cheddar canapé. Paul transformed leftover cheddar rinds into light and airy cheddar puffs, resulting in a divine and sustainable explosion of flavours.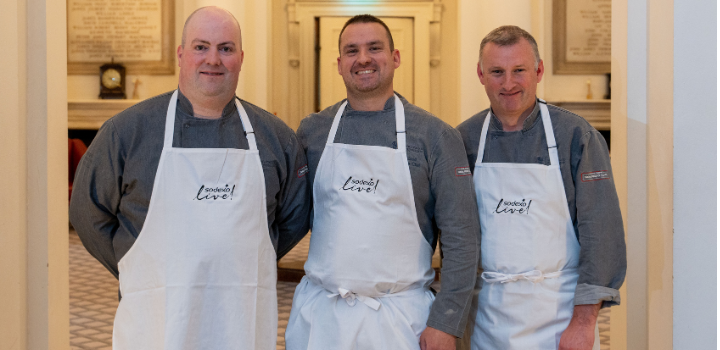 Some of the tasty canapes crafted by guests included:
Steak tartare, croustade, toasted walnut and truffle emulsion, plum tomato, and tobasco pearls.
Puffed mull cheddar, French onion gel, and crispy spring onions.
BBQ octopus, grape relish, kataifi, caviar, and sea herbs.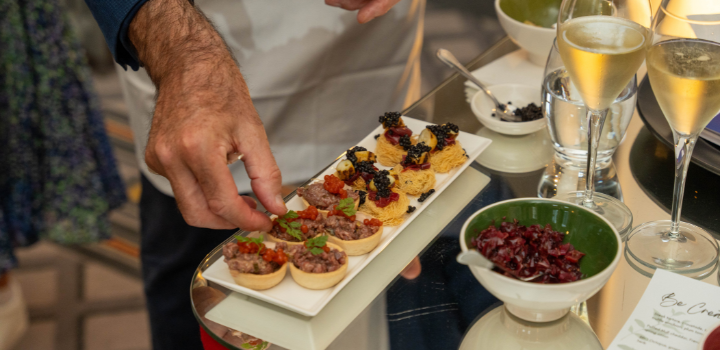 As the evening progressed, guests made their way to the Upper Library, a sanctuary of beauty and grandeur. Guests enjoyed an exquisite 3-course dinner curated by our team of chefs. And as the effervescent wines, meticulously selected by our company wine ambassador Frans, harmonised effortlessly with the dishes, every sip and every bite became an elevated moment of sheer indulgence.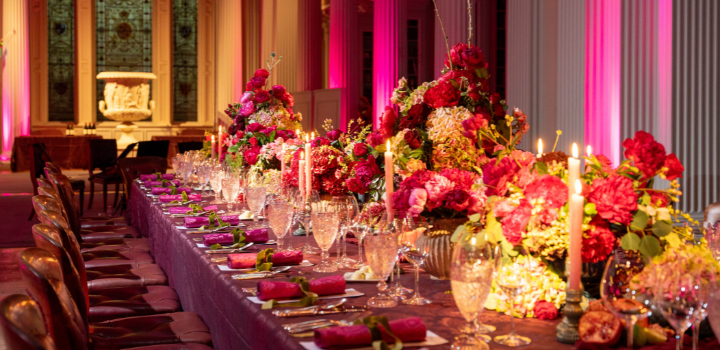 Dinner Menu
Starter: Sesame, chilli and honey glazed breast of duck, spiced peanut dukkah, dashi jus, coriander
Mains: Seared pave of halibut, shaved asparagus, saffron potato terrine, lobster ravioli, mange tout, caviar, champagne butter sauce
Dessert: Truffle, honey and mascarpone parfait, poached bramble, aerated hazelnut sponge, honey tuille, blackberry sorbet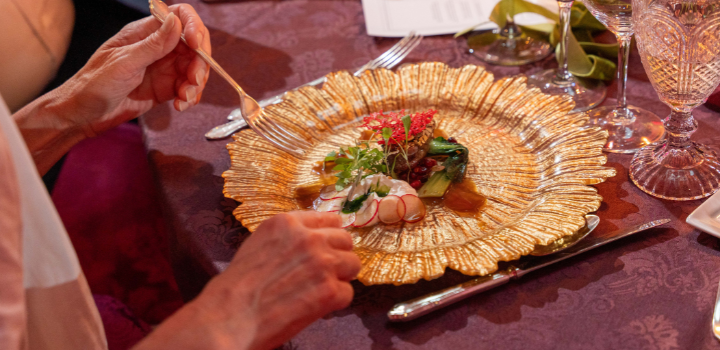 Immersed in an ambience imbued with elegance and grace, our talented team meticulously designed an unforgettable affair, where every detail was thoughtfully curated to perfection. The enchanting tablescape that adorned the trestle table was ingeniously designed and styled by our trusted suppliers, Planet Flowers. With a tantalising display of summer fruits, flowers and hand-painted patina effect vessels, the delightful setting transported guests to a Grecian-style interpretation of the beloved Bridgeton.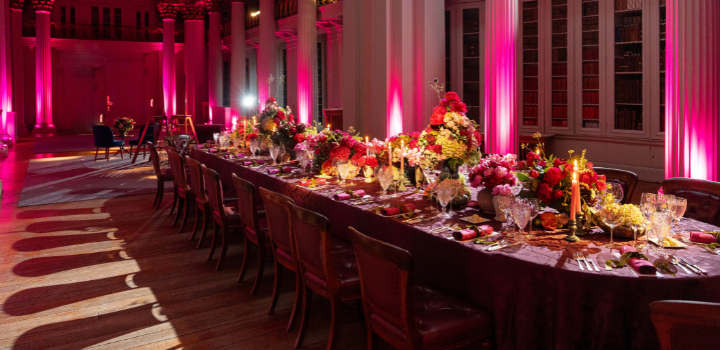 From the enchanting decor that embellished the space to the tantalising culinary dishes, this very special evening at the Signet Library epitomised the pinnacle of an experience beyond food.