You are here
Scottish Food & Drink Fortnight 2023: Meet Our Trusted Suppliers!
At Heritage Portfolio, we go above and beyond to provide a five-star catering service and strive to showcase Scotland's bountiful natural larder. With careful selection, we curate a culinary experience that highlights the finest ingredients sourced from trusted and sustainable farmers, growers, and suppliers throughout Scotland. From succulent Scotch beef to mouth-watering Scottish salmon, each component comes with a story of provenance, guaranteeing unrivalled quality and an unforgettable dining experience.
We are fortunate to have access to the most incredible produce in Scotland and in celebration of Scottish Food and Drink Fortnight 2023, we are proud to share a glimpse into the remarkable journey of a selection of our trusted suppliers.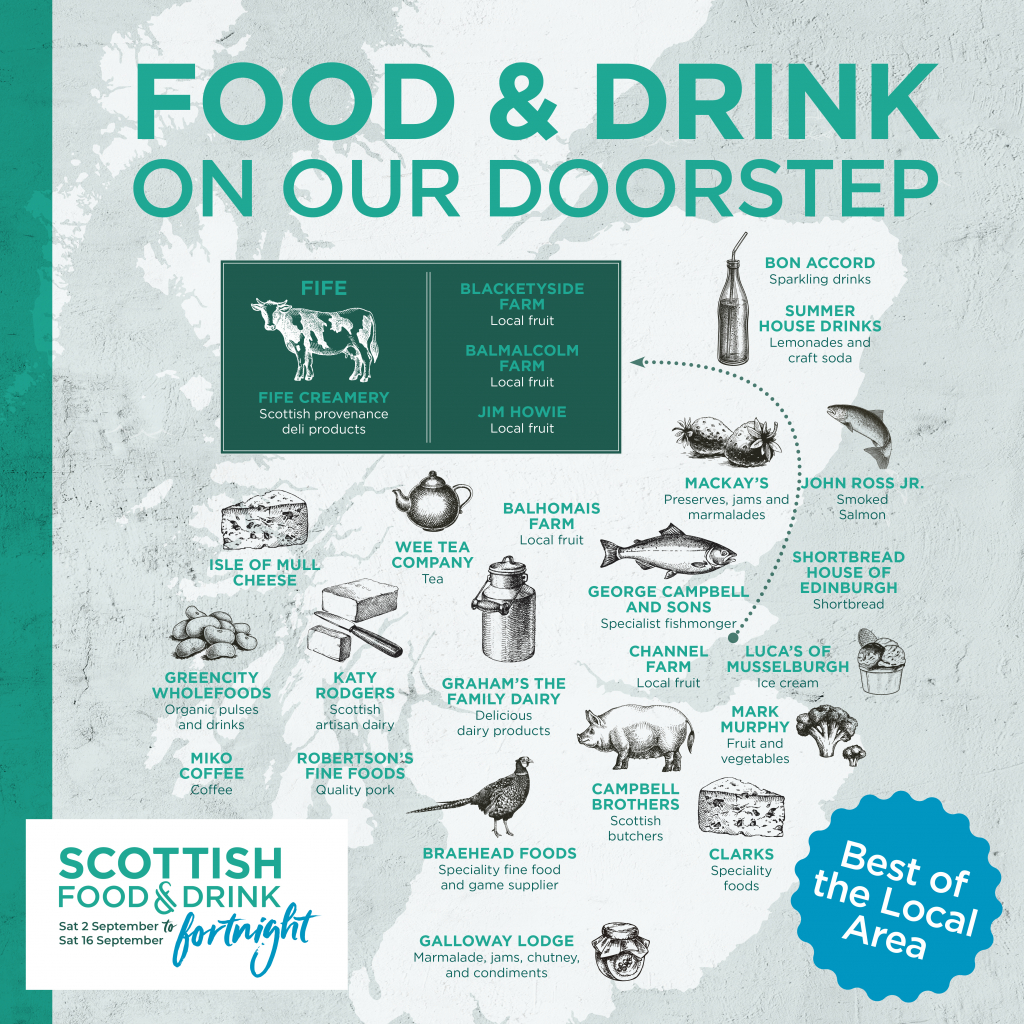 George Campbell & Sons
Established in 1872 and still thriving, George Campbell & Sons have earned a solid reputation for offering the finest fresh Scottish fish, shellfish, and smoked products for over 150 years. Based in Perth, they maintain strong partnerships spanning from Peterhead to Scrabster, ensuring exceptional quality across their range, including Belhaven trout, Scrabster scallops, and Loch Creran oysters. Committed to sustainability, they are implementing eco-friendly practices such as reducing plastic packaging, introducing electric delivery vans, and recycling polystyrene boxes through Volker Gruppe for use in construction projects.
Campbell Brothers
Campbell Brothers is another well-known Scottish supplier, specialising in traditional Scottish butchery to preserve and promote the authentic flavours of Scottish meat products. Their range includes high-quality cuts such as haggis, black pudding, and Scotch beef, sourced from trusted local farms to support the community. With expertise and dedication to craftsmanship, Campbell Brothers is a trusted name in Scottish butchery, offering a true taste of Scotland's culinary traditions.
Katy Rodgers
Katy Rodgers is a respected Scottish supplier renowned for exceptional artisan dairy products sourced from the Scottish countryside. With a strong focus on quality and sustainability, Katy crafts her products using traditional methods and local ingredients. From creamy cheeses to velvety yogurts, her Scottish dairy range embodies the rich flavours and distinctive essence of Scotland's dairy heritage. A particular chef favourite is Katy's crowdie soft cheese elevating our truffled crowdie starter with honeydew melon, balsamic fig, chicory, candied walnut, cider vinegar, and maple dressing.
Mark Murphy
Mark Murphy, based in Edinburgh and part of the Total Produce group, delivers a vast array of Scottish-grown produce all year round. Partnering with top fruit and vegetable growers like Blacketyside Farm, Balmalcolm Farm, Jim Howie, and more, they provide access to a rich variety of provenance, spanning a catchment area from Aberdeen and Pitlochry to Glasgow, Ayrshire, and Edinburgh.
Clark's Speciality Foods
Clarks Speciality Foods, founded in 1993 in Penicuik, specialises in supplying Scottish cheeses, charcuterie, and artisan deli products to top restaurants and hotels in Scotland. Fun fact…they offer the largest selection of locally produced cheeses in the country and our chefs are delighted to include these on our menus and cheese boards!
Greencity Wholefoods
Established in Glasgow in 1978, Greencity Wholefoods has been at the forefront of providing organic, fair-trade, and environmentally friendly produce and provide us with wonderful Scottish savoury and sweet snacks and refreshments. Specialising in organic and fair-trade products, they supply a wide range of dairy, dry goods, wholefoods, confectionery, and drinks, sourced mainly from local suppliers. Since May 2018, they have implemented a robust environmental responsibility policy, reducing their carbon footprint by collecting stock on return journeys and minimising plastic usage. They also compost fruit and vegetable waste through Urban Roots, a community food project in Glasgow.
Mackay's
Mackay's, a well-known Scottish supplier, presents an exquisite range of preserves, jams, and marmalades that embody Scotland's true essence. Crafted with traditional recipes and the finest locally sourced ingredients, Mackay's products offer exceptional quality and rich, flavourful taste that elevate our cakes and afternoon tea offerings.
Grahams The Family Dairy
Graham's the Family Dairy is a renowned local Scottish supplier that specializes in exceptional dairy products. Their range of products includes creamy milk, indulgent ice cream, and delicious yogurts, all made with the finest Scottish milk. With a strong commitment to quality and sustainability, Graham's the Family Dairy is a trusted choice for those seeking authentic Scottish dairy delights.
We take great pride in our collaboration with numerous local Scottish suppliers, whose commitment to providing quality seasonal produce is truly admirable. Through our close partnership with these suppliers, we guarantee the freshest ingredients for our customers while actively contributing to reducing food miles and supporting Scottish farmers and growers. This dedication not only showcases our passion for exceptional food and drink, but also reflects our belief in fostering a sustainable and thriving local economy. We are truly enthusiastic about highlighting the remarkable flavours of Scotland while backing our incredible network of suppliers.