You are here
Eat, Drink and be Scary
We love this time of year! Our bakers at our cafés are dreaming up fiendish Hallowe'en cakes. Our event designers are busy creating atmospheric, sometimes ghoulish event spaces and created a Hallowe'en wedding at Mansfield Traquair.
Visit our cafés for fine seasonal ingredients including fabulous autumnal salads, breads and scones; Hallowe'en teats for the kids (and big kids too) and some fiendishly good cakes and biscuits.
Cafés Modern One and Two are open 9am to 5 pm seven days a week.
Café Portrait is open 9am to 5pm Sunday to Wednesday, Friday and Saturday. Open until 7 pm on Thursdays
Café 1505 is open from 7:30 pm to 6 pm seven days a week.
The Colonnades at the Signet Library is open Sunday to Friday 9 am to 5 pm
The Stables Tearoom at Hopetoun House will be open for the Christmas Fair 27 to 29 November.
And of course, contact our events teams to create an event of your dreams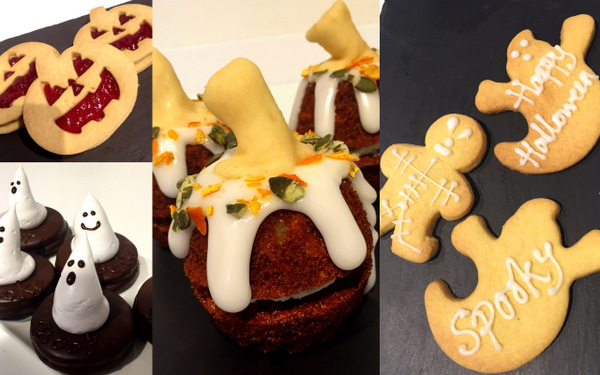 Put the Kettle on and Enjoy this Hallowe'en Food for Thought
You can be forgiven for thinking that today's Hallowe'en has its roots in America. In actual fact, the Scots have been "celebrating" Hallowe'en for hundreds of years. In 1787 Robert Burns defined Hallowe'en in his poem[1] of the same name. It is "thought to be a night when witches, devils, and other mischief-making beings, are all abroad on their baneful midnight errands; particularly those aerial people, the Faires [sic], are said on that night, to hold a grand anniversary." His poem describes many of the traditions we associate with Hallowe'en even today.
A Book of Days printed in 1832[1] describes a "Remarkable consistency in the fireside customs all over the United Kingdom on Hallowe'en … Nuts and apples are everywhere in requisition and are consumed in huge numbers" and goes on to describe "The grand sport of Halloween is to set apples in a tub of water into which in turns juveniles duck their heads with the view to catching an apple".
The Book of Hallowe'en[2] by Ruth Edna Kelley written in 1910 describes Hallowe'en at Balmoral in 1874:
"A royal celebration of Hallowe'en was recorded. Royalty, tenants, and servants bore torches through the grounds and round the estates. In front of the castle was a heap of stuff saved for the occasion. The torches were thrown on. When the fire was burning its liveliest, a hobgoblin appeared, drawing in a cart the figure of a witch, surrounded by fairies carrying lances. The people formed a circle about the fire, and the witch was tossed in. Then there were dances to the music of bag-pipes".
Sounds rather like Hallowe'en and Guy Fawkes rolled into one!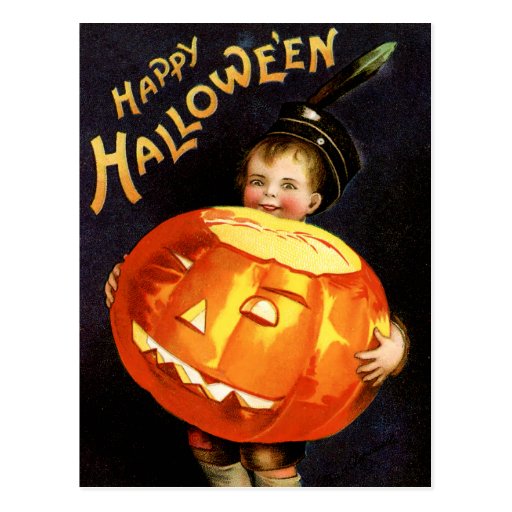 When Scots emigrated to America, they took their traditions with them. Turnip carving became pumpkin carving. Jack-o'-lantern now refers specifically to a carved pumpkin, but years ago the meaning was much more flexible meaning 'a man carrying a lantern; a night watchman.' By 1673, Jack-o'-lantern took on a new description, referring to the phenomenon of mysterious outdoor lights also known as will-o'-the-wisp[3]. Only in the mid 19th century did it come to mean the grinning candlelit pumpkin.
"The room. . . should be decorated as grotesquely as possible with Jack-o'-lanterns made from apples, cucumbers, squash, pumpkins, etc., with incisions made for eyes, nose and mouth and a lighted candle placed within"[4]. 1912 Mary E. Blain Games for Halloween 9.
Perhaps we are missing an opportunity only using pumpkins these days!
Trick or treating can be traced back to the tradition of guising in Scotland as the Dundee Courier describes in 1880.
"It seems to be a similar custom, that of the boys of Scotland, who at Hallow tide go about 'guising'. Three or four of them put on 'false-faces', or vizards of pasteboard, and enter a house unceremoniously; [they then stage a sword fight].The wounded combatant is speedily cured, and the 'guisers' are ready to depart, enriched with whatever the good people of the house are willing to give"[5]. 1880 Dundee Courier & Argus 5 Nov. 7. The first printed reference to the phrase trick or treating was found in a journal in Canada in 1927
Fascinating fact: The Witchcraft Act of 1735 forbade the consumption of pork pastries on Halloween. It wasn't repealed until the 1950s . We've been making up for lost time since then with sausages featuring as a popular treat at Halloween parties and gatherings
Enjoy Hallowe'en and of course pop in to try some of our ghoulish creations.
Sources
We recommend dipping into these original sources - there are some fascinating facts!
[1] Robert Burns "Hallowe'en" 1785
[2] The Book of Days: A Miscellany of Popular Antiquities in Connection with the Calendar, Including Anecdote, Biography, & History, Curiosities of Literature and Oddities of Human Life and Character, Volume 2
[3] Sacred Texts - The Book of Hallowe'en by Edna Kelly 1919
[4] Mary E. Blain Games for Hallowe'en 1912, digitised on Wikiemedia Commons
[5] Dundee Courier & Argus 5 Nov. 1880 7, Oxford Dictionaries Blog